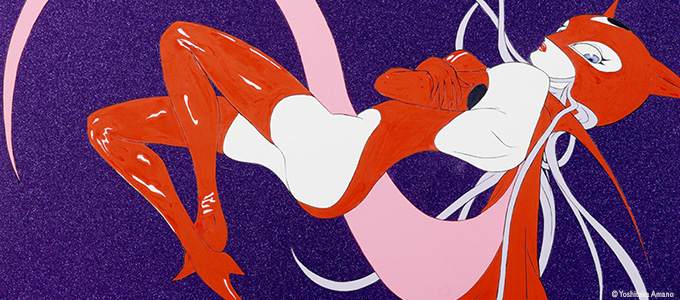 Evolution From Zero

It is a well known fact in the anime world that Artist Yoshitaka Amano was invited to work at the prominent Tatsunoko Production at the very young age of 15. During his winter break in 9th grade, he took a field trip to a studio that ended up turning into the discovery of his talent because of the drawings he had brought along with him. Three months later he joined the world of pros and immediately started drawing for a living.
"When I started at Tatsunoko Pro, there were around 300 employees and everybody was mostly in their twenties including the CEO. It was an environment where there were many people doing work that I really respected. I started there right after graduating from junior high so I was definitely the youngest. I really looked up to them and I was able to take in their small criticisms. On the other hand, when they praised me I was extremely happy."
"It's the praising that kept me drawing until today. I am like a kid. When we are children our worlds are much smaller, so just by getting praised at home or in school you are overjoyed. On that extension, you get praised at work, and then when you go independent they keep praising you. So I keep drawing. I have come this far on just that."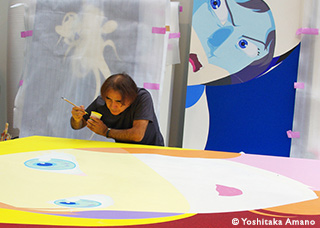 "You may think I am strange when I say this, but I still feel like I am coming into the big city from my hometown Shizuoka to make money. I suddenly moved to Tokyo when I was 15, so probably half of my heart got left behind in Shizuoka. I think it's been beckoning me. All throughout my teens and twenties I went home almost every month and I still go home whenever I have time. People around me find it odd. In Tokyo I am in a space where I draw and create, but when I go back to Shizuoka I feel like I become my essential self again. Like I am reset to zero. I don't draw at all when I am there."
After diving into the anime world at merely 15, Artist Amano worked on character designs for Tatsunoko Production's symbolic anime series such as Time Bokan and Gatchaman and became a highly acclaimed young creator. However, he never wanted to stay in that comfortable place in the industry. Today, he hardly ever watches anime.
"I feel like animation back then was more like a form of expression. These days it seems like they make anime for the sake of making anime. During my time, I used anime for my life-sized self-revelation and to make my claims of society."
"Then one day I realized that what I wanted to really do was something that has never been done before – not create something based on research that would assuredly be a hit. I wanted to do something that no one has ever attempted. Of course, if that happened to be anime, there needs to be a huge organization that would move the project along. But in anime, it doesn't mean that my artwork goes out to the world. What gets out there is someone else's animation work based on my drawings. So, I started wondering how I am as an illustrator if I stepped out of the anime industry. I wanted to try my potential in the real world, not based on the credibility inside of my company. So when I turned 30, I went independent and I have been an illustration artist ever since."
"An artist is in search for the rest of his life, and it's like a continuous pursuit of knowledge. On the other hand, commissioned work has a deadline. I am still inexperienced, so sometimes I anguish over things I can't draw. But if it's for work, it helps. I have to finish when the deadline comes even if I was tormented about it. Then I get relieved from my worries. The work I am asked to do, and the work I will do even if no one asked me to, both are necessary to me."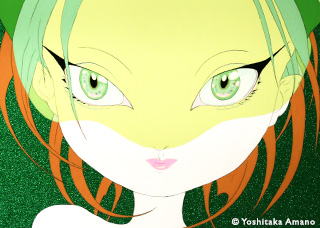 At age 30, Artist Amano decided to start from zero. Rather than continuing to draw as a profession, this was his own way of clearly defining a new attitude to lead a life as an artist and to continue to progress as a creator.
"I feel like drawing is not work. Drawing is so fun, isn't it? But for that very reason, I need to be careful not to get swallowed up by that. Before I know it I will be labeled as a painter or an illustrator. I feel like creating should be way more open than that. In the case of Michelangelo and da Vinci, they were not limited to paintings and they were involved in all kinds of architecture and new inventions. When you label the work you do, it is more descriptive for the people around you, but it takes away the freedom. I don't think creating something can be defined like that."
"If you keep at it long enough you may become great at it and then people will start calling you something like 'master.' It's like that in music, too, right? It creates hierarchy and then it becomes so mundane. That is why to create means to fight off familiar practice, and if it seems like you have become taken over by routine, you have to part from that and start over from zero. I am telling you. The day will come when you will feel unsatisfied if you'd stay there."
"Even though it's starting over from zero, there are some advantages because of all of the experiences up to now. For me, animation is one of those experiences. If the stage that I stand on has been changed, then I need to bring out new things that are different from before. Everything that I have experienced, however, is all brought to that new stage. So what I mean by starting from zero is, either way there will be improvement at the end. I think life is a repetition of that cycle."
Artist Yoshitaka Amano will turn 61 this year. Alone, he has reset himself many times and has been able to quietly evolve from zero over and over again. Which is probably why even today, we can catch a glimpse of a 15 year-old boy behind his gentle smile.
(Interview: Manami Iiboshi, Translation: Mika Anami)