Where Happy Endings Begin

With mega-hit films such as Toy Story and Monster's Inc. one after another, Pixar has become an animation studio with practically no competition. In a production room with projects over $100 million, what is required of an art director is to measure the balance between attention to detail and the bigger picture. It's almost like the ability of a professional athlete.
Since 2007, Mr. Daisuke "Dice" Tsutsumi has lead giant projects with more than 200 staff at a time, as an art director for Pixar. Before awakening to the world of illustrations in college, he was completely determined to make it as a professional baseball player. He says his baseball days from high school are still helping him in his job to direct competitive artists from all over the world.
"It's a lot like baseball. There are players who only think of themselves while they play, and there are players that are always concerned about the whole team. Both are necessary. Since the time when I was a baseball player, I was the latter type. Whether it's baseball or making a film, it is so much more satisfying to win together and reach our goals as a team rather than winning by one dominant player. The difference is so huge there is no comparing the joy. The reason why I am able to do my work now is not because of my ability to draw, but because of the power of teamwork. In our workplace, good communications with co-workers and leadership to pull people together are always very important."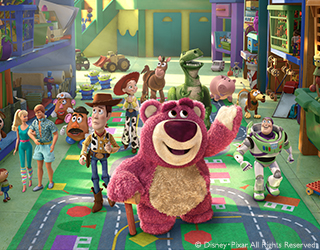 "At Pixar I am able to attend a leadership training program every two months. I learn problem-solving skills for when there is any issue that needs resolving. I think you can go pretty deep with that. Even in my everyday work, I feel like I am continuously learning about leadership. Here, if you use your higher position at work to patronize, to order people around from your seat, or say dumb things, no one in your team will ever take you seriously. Everyone here is incredibly accomplished. This is a place where leaders must strive even harder to aim higher."
"Of course, there is a lot of stress in leading a team. There is a lot of relationship friction. As relaxed as I may seem, sometimes I go 'argggh!' (laugh) But in those moments, I need to take one step back and think of the real goal that we need to accomplish, and in what way I may receive help from others to get there. Rather than getting caught up in it, I yield to convince everyone to work together. Well, according to my wife, it looks as though I am letting others get their way, while I am actually getting what I want." (laugh)
Mr. Tsutsumi has been making his way out of nothing ever since moving to New York at age 18 all alone. Much like his baseball days, his discipline to put all his energy into aiming straight for his goal has also allowed him to realize his dreams in the animation world. At merely age 32, he got his dream job at Pixar as art director. Around the same time he had moments when he was struck by an overwhelming feeling of uncertainty. It wasn't only for work but also for his future.
"That was when I was still single and I had just arrived at Pixar. I had so many worries. I had all these goals that I had already met, and so it was probably more about how to keep my motivations high for what was ahead. So I thought maybe a break will do me good and decided to travel around Shinshu, Japan* with a photographer friend of mine."
"Since I had lived abroad for so long I was deeply impressed, especially, by a hot springs town called Shibu Onsen in all of our Shinshu trip. It was overflowing with aesthetic flavor that was so uniquely Japan. I want my American friends to visit there when they get a chance. There is a wooden bathhouse and inn** where supposedly Spirited Away was staged, and is a national treasure. I just had to do a sketch of it."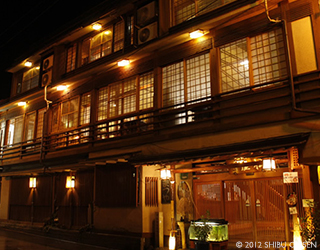 "We had decided that while in Shinshu we would see the sunrise every morning, so we woke up before dawn and went to the mountains. I sketched and my friend took pictures. After saturating ourselves all day with the nature of Shinshu, we would sit in the hot springs at night, and then eat delicious food served at the inn. It was just the best trip, getting so much inspiration from the land of Shinshu."
This photographer who he traveled with is his classmate from high school, and is one of his best friends who he closely follows. This friend, who is never satisfied with the mediocre, and has the disposition to honestly and directly approach what he wants, has taught Mr. Tsutsumi that there is more than one way to reach a goal, and in fact, that goal may even change sometimes – and that's okay.
"Since he was a kid he had the dream to work for NASA, and he went to the University of Colorado that has the best program for space engineering. Finally his dream came true and he got a job at NASA. Isn't that incredible? He did what he said he would! But while waiting to graduate, he took a camping trip alone in western USA. He picked up his camera that didn't get much use while in college and started taking photos. That is when a thought crossed his mind. 'If I didn't go to NASA, someone else will replace me and things will continue as planned. But if there are ten people taking photos with me at the same place at the same time, only I am able to take my photographs.' That is when he realized, 'oh, what I really want to do is photography!' and he simply decided not to go to NASA. He went back to Japan and spent three years building his forte while teaching English on the side. Now he is making it as a popular photographer. I was so blown away by his grace and clarity."
"In our long life, we never know when we will see the results. In Japan, you are expected to produce results before the entrance exams to get into high school or university. After that is where you get a job, how much you make, if you are married, if you have kids. There are a lot of people that feel like failures because they are not able to achieve these results. But really, I think there is no need for any of it."
"The 'happy ending' of our life, and by that I mean the 'definition of happiness,' is probably about discovering what one really loves. Once that has been found, all the results are just surplus. People around may share judgmental opinions, but that's often just making social comparisons. Sometimes a person may be better off derailing at once. I believe I was also able to find my true path in the US by derailing from Japanese society. And yet goals may change: Pixar's goals or my goals as an artist might change. And I think that's fine."
To reach a true goal, there is not always a shortcut that leads there directly. Whether it is a path that has been walked before, or it is somewhere that no one has ever been, if that brings fulfillment to the heart, then from there the 'happy ending' starts to resonate. And maybe there is more than one 'happy ending' in this lifetime.
*The historical name for the area around Nagano prefecture.
**Kanaguya (see Destination "Shibu Onsen" for more info)

(Interview: Manami Iiboshi, Translation: Mika Anami)