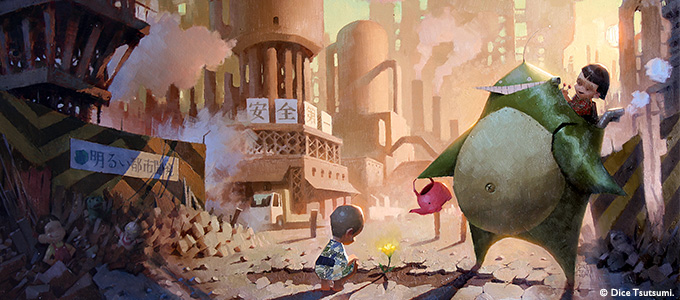 Men Who Plant Trees

Mr. Dice Tsutsumi and most artists affiliated with the animation world worship two creators as if they are God. One of them is Director Hayao Miyazaki of Japan. The other is Director Frédéric Back who won an Oscar for Best Short Film with The Man Who Planted Trees (L'homme qui plantait des arbres). Through a charity art project called "Sketchtravel" started with French illustrator Gerald Guerlais back in 2006, Mr.Tsutsumi had the fortune to meet both of these directors.
"Sketchtravel" was a huge project in which one red sketchbook was passed around in 12 countries from one artist to another, like the Olympic torch, filling the pages with drawings until it was completed after four and half years. The sketchbook, which was jam-packed with drawings by 71 world-renowned artists, was auctioned off in October 2011 in Brussels where it was sold at a high price of 76,000 EUROS, which was then donated in its entirety. This benefited the project to construct children's libraries in the five countries of Laos, Cambodia, Sri Lanka, Nepal, and Vietnam. This miraculous circle of connection that came together through "Sketchtravel", completed its final chapter with art from directors Back and Miyazaki.
"I really wanted to ask Director Frédéric Back and Director Hayao Miyazaki to join the project since the very beginning. In the case of Director Frédéric Back, I was about to give up on the idea because I didn't know him, and I had heard that in his old age he was difficult to get a hold of. Then, out of nowhere someone told me that Mr. Frédéric had once praised my work after looking through the concept art book for Toy Story 3. I took a chance. I contacted him and went to meet him in Montreal with the sketchbook in hand."
"When I met him, Mr. Frédéric spoke to me with passionate eyes about what artists should live for. He told me that we artists have a purpose. We must create while thinking very hard about what we can leave behind for our future and for the next generations. If not, there is no reason to continue as artists. As I watched him, I thought to myself seriously, 'I want to be like him when I grow old. I want to have the capacity to share my passion with young people without shying away.' With this encounter with Mr. Frédéric through 'Sketchtravel', I feel like I was passed on a very important torch as an artist, and also as a human being."
"Mr. Frédéric is a person who has repeatedly questioned what he can leave behind for this world through animation. His famous piece, The Man Who Planted Trees, was not made for viewers to ponder over 'why we must plant trees.' It has the power to plant some kind of consciousness into each and every one of our hearts. This can't be forced onto people, but he was able to accomplish this planting gracefully through the use of artistic expression. He believes that artists who have such expressive abilities must have some kind of predestination."
Director Hayao Miyazaki, also a grand admirer of Director Frédéric Back's work, is another man who is predestined to plant trees in this world. Mr. Tsutsumi and Director Miyazaki's connection is serendipitous. Mr. Tsutsumi's wife Ms. Mei, whom he met again 18 years after knowing her since Wako Elementary School, and whom My Neighbor Totoro's little girl "Mei" was modeled after, happens to be Director Miyazaki's niece. Separately, and before reuniting with Ms.Mei, Mr. Tsutsumi had already been deeply involved as the project planner for the "Totoro Forest Project" that Pixar was supporting company-wide.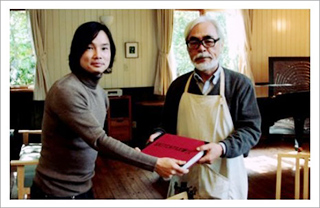 "Totoro Forest Project" is an international charity project started by Director Hayao Miyazaki himself to support the "Totoro Forest Trust Fund" that protects Sayama Forest. Located in Tokorozawa, Saitama Prefecture right outside of Tokyo, the forest is said to be where the idea for My Neighbor Totoro was born. The charity drew 200 or so top artists around the world whom claimed to have been influenced by Director Miyazaki's work. The artists created original artwork with the common theme "My Totoro," and the proceeds of the auction went to the fund. Coincidently, Mr. Tsutsumi happened to be at the heart of this project. Like many other artists of Pixar, Mr. Tsutsumi donated his original "My Totoro." His artwork depicts Totoro appearing in what resembles the Shitamachi* townscape of good old Japan.
"The scenery of Tokyo where I grew up is in constant change. Every time I go back to Japan everything from the subway to what have you are all new, and even with a map it is hard to not get lost. Even with all this change, and as an adult, what I remember the most is the view of old Tokyo just the way it used to be. I grew up in Shibuya, but I used to go to Ameyoko and Ueno a lot with friends. I recall the distinct scenery of Shitamachi incredibly well."
"Just around the time I was in third-grade, my close friend back then and I played at Ueno Park frequently. One time, we came to know a street vendor who was selling bubbles. That became my very first job. Really, my work was just posing. I blew bubbles all day next to his kiosk to attract more customers." (laugh)
"We just wanted to buy more game cartridges for our Nintendo, so we saved money without telling our parents. Eventually his parents found out and it had to stop. With that same friend I used to go to Ameyoko all the time. For some reason I often think about old Tokyo − its disarray and a sort of indelicate rawness, as if it was left behind by the modernization of the city. Instead of renewing everything, I think it is actually very important to take care and leave behind these sceneries that we all have in our memories."
Planting trees that are invaluable to this world one by one is maybe the torch that has been passed onto every adult. Of course, the next generation has the choice to nourish these trees, or cut them down without much thought. It is hopeful, however, that within every future child's memory is an ancient native environment where a Totoro will come to burrow. That is why another tree will be planted today. Even if we may not live to see the great forest to be.
*An old town district of Tokyo that generally runs along Edogawa River. Known for its food and shopping areas and places that bring nostalgic memories of old Tokyo.

(Interview: Manami Iiboshi, Translation: Mika Anami)