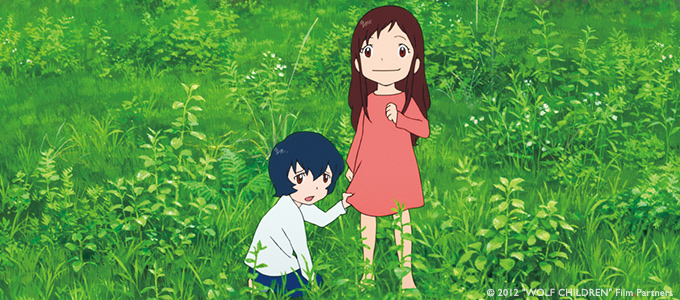 To Somewhere Beyond The Map

"I am not really that interested in my own story," reflected Director Hosoda as he spoke about his daily life. He is the man who made all of Japan cry this summer with Wolf Children, a quiet story of a woman who loved a werewolf and their children.
"I always want the stories and peoples' lives inside of films to be dramatic and interesting, but I don't have the slightest intention to reinvent my own life story in some outrageous way (He chuckles). My life is particularly straightforward. I have never gotten a speeding ticket nor have I been pulled over for drinking and driving, though I like to drink."
Hosoda situated his Studio Chizu(the Japanese word for map) in Koenji together with Producer Yuichiro Saito, who has been part of his past productions. Their first collaboration at their new studio, Wolf Children, was sent out into the world and was a great success for Hosoda. Although he has supposedly weathered the stormy waves of the anime industry, his calm manners make him seem more like a sailor that casually goes out to sea everyday.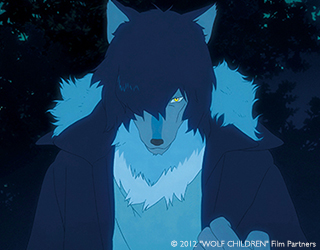 "To tell you the truth, I built Studio Chizu because it just had to be done. I used to make movies under the big umbrella of large companies like Toei Animation and Mad House. However, I thought that from here on, the product is the main priority so I will need to have the best environment for myself in order to continue creating movies."
"I think everyone feels like it's all already been done in the anime world, both for the business and product. I myself feel, however, that there are plenty of things we can do, and in reality, I think there is a lot of possibility in filmmaking utilizing the art of animation. That 'possibility' is what I instilled in the name Chizu."
"It's like a blank map with no lines. While creating the work we fill it in. I named it Chizu with the intention of stepping into a new frontier from here, and to be open to discoveries like 'Oh, I had no idea there were new places left.'"
Hosoda shares that in his real life he also likes to spontaneously go out to unknown destinations. For one, after the completion of Wolf Children, he took a carefree car adventure on the way back from his uncle's house up north.
"I rather enjoy taking aimless trips when I have a break or when I have time. Like getting on the highway without deciding where to go. I just get going, and then when the sun starts to set, I start looking for lodging. Then I get somewhere serendipitously and I often discover something new."
"When creating a movie, I am curious about what is beyond the story. For example, for a love story, normally it is about the build up until the man and woman get married, but I am more interested in what happens after the wedding. Wolf Children is exactly about that. In The Girl Who Leapt Through Time, it's about her ability to leap through time. Rather than finding out how and why she attained that power, it is what she does with it, where she goes with it. I want to see 'beyond' what we see."
Unlike simply following a map, the protagonists of Hosoda's anime seem to effortlessly leap across the secret borders that hide beyond the extensions of our everyday life. How has drawing and creating anime expanded Hosoda's map?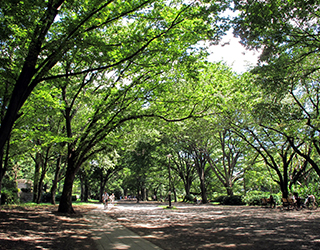 "I started creating anime in junior high by drawing on paper by myself. So, I enjoyed doing everything on my own until my first year in college. But once you create something with someone else, it is definitely an incomparable sense of joy that could not be experienced alone."
"Since I entered this industry, I definitely felt competitive with fellow animators of my generation, like 'I don't want to lose to him, no not to that guy.' But it is useless to just have rivalry on our mind when anime and movies cannot be made alone. They are something to do together."
"In order to create films we need people with a common goal. What's important is how we come across these people. There aren't so many people around that I want to make films with, but through each and every encounter that I have, it is important to get the feeling that this is certainly the person I want to create something with. I think it is way more significant to build something out of that meeting, and expand one's community."
By finding an ally in Producer Saito, who is very sharp and much younger, Hosoda has embarked on a new journey to find an undiscovered map. Where did he come up with the inspiration for a half werewolf half human character?
"I have been living in Kichijoji for a long time and I go on walks at Inokashira Park all the time. There is a Starbucks by the park with a terrace that allows me to smoke, so I go there often. One time I was sitting there gazing at the people walking to the park. There were certainly many people with children and dogs… and I came up with that idea while watching the kids and dogs, who were about the same height, coming and going, crisscrossing in front of my eyes. That is how it happened."
Hosoda himself, who laughed after explaining this inspiration, has become a father in September. It looks like he may be making his own debut with his child at Inokashira Park very soon.
(Interview: Manami Iiboshi, Translation: Mika Anami)