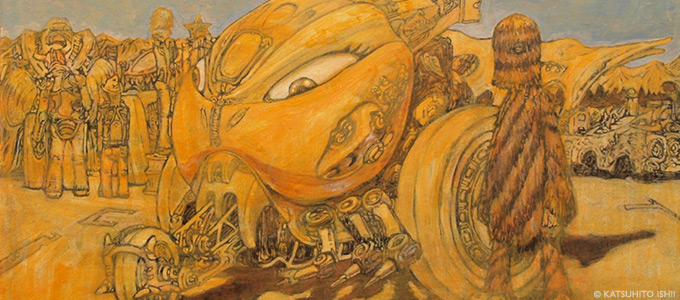 Searching for Treasures in the Back Alleys

Director Ishii moved twice in pre-school and six times during elementary school. Before entering middle school he had practically moved to a new school every year. His hometown Niigata that shows up on his profile information was his home for merely the first three years of his life and he hardly remembers it. After that his family moved within the Kanto region to Chiba, Tokyo, and Saitama.
"I still have a habit of looking for something amusing and magical and I get bored of what is in front of me right away. That is probably a result from all the relocating I did as a child. When I was in sixth-grade, we finally settled down in Omiya of Saitama Prefecture and I went to the same local junior high and high school, and then commuted to college for four and a half years from there. I got bored of it right away, and I remember having such a hard time with that."
"Moving and getting accustomed to new environments wasn't that hard for me. Rather, I was good at it. I am sure the new guy from out of town fascinated the students in the new schools I moved to, and I never saw any bullying going on. I felt comfortable wherever I went. I especially liked discovering the new locale wondering what kind of town it is, and adventuring off to unfamiliar places. Sometimes I would skip school in the middle and go on strolls, and one time when I got home the teacher was there waiting for me and I got scolded."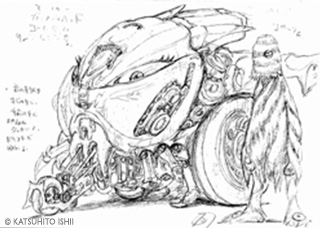 "It's hard to stay in the same environment for a long time. Like being in the same company. Although my first job at Tohokushinsha ended up lasting for nine years since my work was mostly in production and I went straight to the studio or locations, I didn't really have to show up at the office too much. I didn't last in the next company… although they had created a whole separate company for me and I never really had to go to the office."
Director Ishii, the young boy who was easily bored and was constantly in search of new stimulation, got captivated by the manga and anime world. He found there the unlimited possibilities of all the amusement and magic he could ever dream up, something so hard to find in reality.
"When I was in fourth-grade, I saw someone reading manga in the train and I was so intrigued by a face in the drawings, it got totally stuck in my head. Back then my family forbade manga reading in the house, so I got out a sketchbook and started drawing that face. Then I couldn't stop myself and I continued to draw the face over and over. I was totally absorbed. I also saw that the more I drew, the more I improved."
"When I realized it, I had drawn the same face from edge to edge of the sketchbook and even on the back cover. My parents were surprised when they saw this and finally allowed me to 'go get that manga.' (laugh) Just from memory, I was able to figure out the character to be Kyuichi Uno, the protagonist of the baseball manga Team Astro. After I bought the manga I was copying the drawings, then I got sick of using pencils, so then I started imitating the poster of Star Blazers using paints and airbrush. That is how I started to draw real drawings."
"When I was in seventh-grade I got together with friends and the three of us started making manga seriously. We even handed out the zines we had made. We did stuff like imitating Dōmu by Katsuhiro Otomo. I don't really remember the storyline, but I think it was a sci-fi comedy. I remember working especially hard on the cover art. A little bird told me that one of us is now a professional anime director."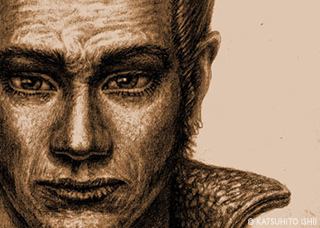 Director Ishii was an anime fan to the point of even knowing where Hayao Miyazaki lived. Despite being in elementary school, on weekends he would visit small anime studios and giant studios like Toei Animation in search of used cel art from popular anime series. In those visits he came across originals by then animation director Hayao Miyazaki, and even encountered the art by the pioneer of the Japanese anime world along with Mr. Miyazaki, master animation artist the late Yoshinori Kanada.
"In those days they sold backdrop cel art for anime series like Galaxy Express 999 for about $5 at the studio shops. But the cel art with the real high value belonged to the college student type. It wasn't at the studio shop but outside at a park or in the back alley where they would discreetly make their sales. Mr. Yoshinori Kanada's originals from Star Blazers: Farewell To Space Battleship Yamato, or the original art of Clarisse from Lupin the 3rd done by Mr. Miyazaki, were getting traded there for about $500-1,000. I bet it is worth much more now. Especially the ones that Mr. Kanada had worked on were treated as exceptional."
"Of course, I was in elementary school so I couldn't buy anything expensive like that. I was able to talk those college students into selling me cheaply some cel art without any backdrops, and I just added my own background art later. (laugh) One time a person from the industry who claimed to be working on Gundam's theater version came to sell its cel art for $50 each. I looked at them and they were real. He had some good ones like Matilda Ajun saluting without a background. I could always add my own background, so I bought one. I added the scenery, put it in a frame, and then sold it. (laugh)"
"These days you do all purchasing on the web, so you can't really tell if they're real or not. I don't think you can have the experience of digging through a pile and finding with your own eyes anymore. A real original art is so skillfully done that you can spot it at once. I truly cherish the fact that I was able to see the original art by Mr. Kanada and Mr. Miyazaki since I was so young."
Then one day a change comes over young boy Ishii who loved anime so much. It happened when he saw the live-action film starring the late actor Yusaku Matsuda. After that, all the films with the actor became Director Ishii's bible. The encounter with Yusaku Matsuda during his difficult adolescence was so influential, he still admires the actor to this day. As an adult, Director Ishii is as easily bored as ever, and continued moving around within Tokyo. Finally, it seems he has found a place to settle down near Zenpukuji Park between Nishiogi and Kichijoji. Supposedly that is because it is very close to the home where Yusaku Matsuda lived out his last days. As an homage to his favorite actor, Director Ishii created an impactful film Smuggler, taking the original manga by Shohei Manabe and turning it into an ultra violent action movie using his signature special effects with anime-like realism.
Without the encounter with late geniuses Yoshinori Kanada and Yusaku Matsuda, today´s Ishii films that effortlessly cross-over the line of contrasting expressions between manga-anime and live-action films would have most likely never been born. Perhaps, young boy Ishii´s search for hidden treasures in the alleyways of a strange town continues on.
(Interview: Manami Iiboshi, Translation: Mika Anami)