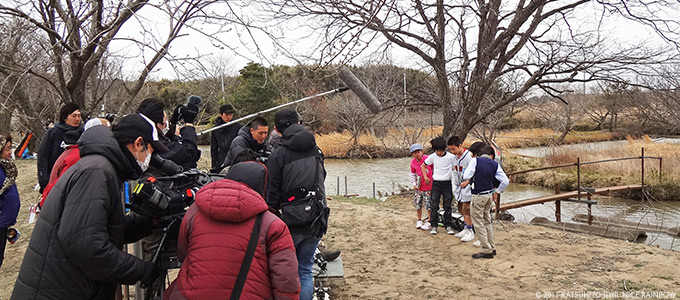 When A Film Meets A Town

The latest film by Director Ishii, Hello! Junichi, is an overly extravagant independent film. What makes it so extravagant? It's not only because of the main actress Hikari Mitsushima turning down daily offers to make her schedule work for Director Ishii. It's also due to the other actors, the production team, and even the city hall affiliated workers of Narita City. They all came with an ulterior motive to be there, to be part of it, and to touch the world that will soon become an "Ishii film." Mostly, they naturally gathered with intentions to have fun. That very motive is what makes the new film so extravagant.
"For this film I had the help directing from the group of Atsushi Yoshioka, who were graduates of the workshops I used to hold. To prepare the opening scene with a long one shot of conversation between kids, we held an extensive workshop with the child actors for three months meeting once a week for six hours each. At first, the kids were reading their lines slowly and it wasn't theatric at all. It took a while before they could start speaking in the speed they normally do with their friends. As a result, people have come to enjoy this production as a good example of how elementary school boys actually converse with friends."
"At the end it was so helpful because the people from city hall of Narita and the local people were so supportive. As a film shoot location, I feel like it was the most enjoyable place so far. Since the child actors could only work until 9pm the adults were also finishing work around the same time, but since the shooting itself was so fun, people from city hall stuck around until 10pm or so even though they could have gone home right after 5pm. (laugh)"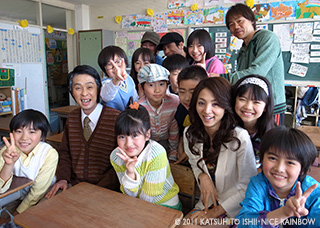 "This was a film that was completely funded independently, so I had scheduled the entire shoot in a short 20 day plan. The city hall people had negotiated and booked a hotel (Marroad International Hotel) for us nearby the film location, which was perhaps the nicest hotel I had ever stayed in during a film shoot, and they even got it for us at an incredibly low price. On top of that, the maids came to fix our rooms up everyday, which was something outside of the cheap price we were paying. Thanks to the active support from the mayor of Narita, the whole city was behind us. The mayor also joined to play the part of the principle in the film. (laugh)"
The location hunting process of Director Ishii is a bit different. It's as if he freely imagines a place that becomes the main location for the film, then as if a GPS had notified him of the exact location, this imaginary place pulls him in. Narita where this film was filmed was no exception to this.
"I first sketch out a virtual map of the town or village that appears in my film. Then I try to find the closest thing to it, and that is where my location hunting begins. For example, for The Taste of Tea, the river was something that came to me first, so I had an intention to mainly film around it. But it was really hard to find a village that had the river I wanted. So rather than location hunting, I researched a place where many still-photographers go to shoot. As a result I found the town of Motegi-cho in Tochigi Prefecture. When I actually visited Motegi-cho, the river and the rest of the place was exactly how I had imagined it."
"For Hello! Junichi, I did the same and first asked the directing team to visualize and sketch a town where the children in the film live. So they freely drew a town with parks and a river near by. Of course we didn't know if such a place really existed, but curiously, we found a place that is a match. Somehow these things happen."
"First of all, making the film came down to find the school itself, so we wanted to start as soon as we found a campus that allows filming. Coincidentally, an acquaintance of mine had just filmed a commercial at an elementary school that had just been closed down, so with that connection I visited the tourism promotion division of the city hall of Narita. When I actually visited the school I realized that the surrounding environment was very close to the sketches we had done. Isn't that peculiar?"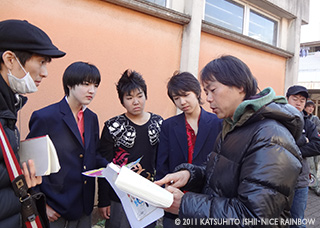 With arrangements made by city hall, Director Ishii and his film crew also got to join the annual festival at the local shrine. Before this, he only visited Narita to get to Narita Airport and never had the opportunity to see the everyday life of the town. He said he never could have imagined what a huge gift it would be to be able to meet the faces of the local people during his short stay for the film shoot.
"What really surprised me when I went to Narita was the horrible sound pollution outside all day long. Way up in the sky where we can't see, supposedly, there are more than 100 airplanes coming and going every minute. Therefore, all school buildings have soundproofing. So actually for an indoor filming environment it was pretty ideal. I realized for the first time the creative ways in which the Narita people have managed to live in such conditions."
"We were adamant about not bothering the people that lived around there, so I was looking into some empty homes to do the shoot. Mr. Tsuzuki, who is in charge of art direction for my films, however, did not agree so easily, so I finally had to take him to Narita. As soon as we got there he was like 'I like it here' or 'that scene should be filmed here' and went off making decisions one after another. (laugh) The site for the studio where the main characters gather after school was a storage space for a car mechanic. The owner had said yes so we also asked him to remove all of his farming machinery from there – at the end it turned into a huge ordeal. (laugh) We also burdened the person who loaned us the house that was used as Junichi's home."
"Despite all of that, the local people didn't gather around like voyeurs. They walked on by as if they did not see us and left us alone to work. They even cooked for us. We received such kind treatment from them. I feel like that isn't something that we can experience just anywhere. It wasn't only that. I was able to witness Narita people's shinto shrine proceedings, and see how they treasured their neighborhood bonds as part of their lives. It made me happy to see that there was still such culture left in Japan. I have been feeling like I want to contribute to the revitalization of these neighborhoods through my filmmaking… in fact, from here on, I would rather live doing stuff like that."
When the next Ishii film meets a new town, it maybe the map of the small town where you live that Director Ishii's imagination had already sketched out.
(Interview: Manami Iiboshi, Translation: Mika Anami)