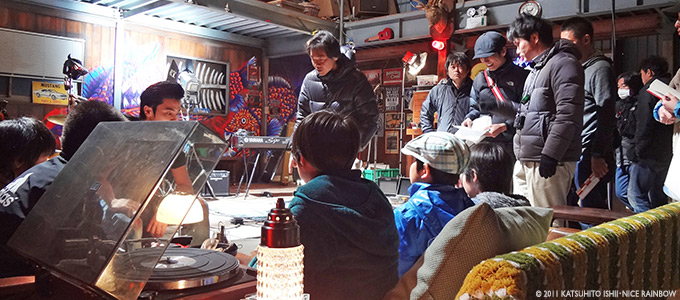 Film It Now Or Be Damned

This may come as a surprise, but Director Ishii decided to join the world of filmmaking after seeing the 1976 American mega-hit comedy, The Bad News Bears. The film is about a lazy drunken ex-minor leaguer Morris Buttermaker who works as a janitor. Somehow he falls into the responsibility of coaching a junior baseball team "The Bears" full of problematic boys. The story depicts his hard fight to encourage the hopeless team.  
"I wanted to make a children's film like The Bad News Bears all along, but I never got around to it. After the 311 earthquake and tsunami disaster, however, my desire to make films for children got suddenly very strong. 'If I don't film this now, I'd be damned.' That's probably how a lot of filmmakers felt during the time of the disaster. I had to get Hello! Junichi going, so I produced it as an independent film."
"For this film, I researched a lot about how I might be able to do the filmmaking differently, and also how I could distribute the film in a new way. With my first independent film Sorasoi, I learned the difficulties of finding distributors that will manage the theatrical release. Therefore, I wanted to find out the simplest way to get the film to my main audience: children. So I went to talk to some professionals of promotion and distribution."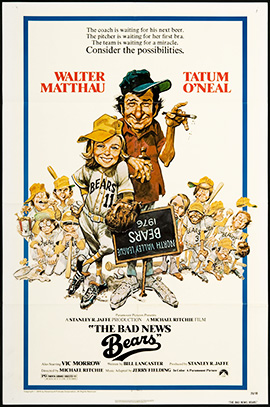 "Producer Toshio Suzuki from Studio Ghibli, and Producer Muneyuki Kii of T-JOY met with me individually and informed me that there are some modest ways outside of the norm in which I could get screenings for my film. For example, they told me about many community centers in rural areas that have great theater facilities that were built during the bubble economy* of Japan, and there is one group that handles the management for all of them. I learned so much from the two producers who are at the top in Japanese film promotion. Naturally, they had put so much thinking into the subject already."
Hello! Junichi is about a timid and unconfident elementary school boy Junichi and his friends forming a band with much conviction. Under the watchful eyes of adults, the children are able to grow up in a lively way. With this film, Director Ishii truly attempted to make a 'by the children and for the children' type of film. For the next project, he wants to make a baseball film just like The Bad News Bears, and also wants to do it in his favorite town Fukuoka.
"I go to hangout in Fukuoka a lot on my free time. I just get on the bullet train from Tokyo to Fukuoka, like I am going for a drink there casually. I get comfortable in the green car (the priority seating section) and I get some work done. Right around the time I am finished, I get off at the terminal in Hakata. Then I go drinking in Nakasu straight from there. (laugh)"
"What's so interesting is how the atmosphere in the bullet train changes the more we go west. Between Tokyo and Osaka there is this sense of prickly tension. It may even feel awkward at times. After Osaka, though, somehow the whole train becomes loose and relaxed. After a while it feels like nothing matters at all. It's the same for the opposite direction. As we approach Tokyo, the air becomes tingly."
"I haven't really done any real work in Fukuoka, so I would really like to film there the next time. Or even just go ahead and move there. (laugh) I like it that much. In fact, there are a lot of commercial directors that are moving to Fukuoka these days. The people, the town, and the food are all warm there. Their food is so good, the price is right, and it's never a hit-or-miss. I am tempted to eat out every night. Within an hour's drive there are all kinds of hot springs like Kurokawa Onsen and Kabeyu Onsen. Every time I go, I get to go to a different hot spring."
Director Ishii enjoys his sake and loves bar hopping through the entertainment districts all over Japan. It is no wonder he fell in love with Fukuoka, the sake capital where "sake and shochu meet." Among all, he seems to have a special place in his heart for the drink he has with the bar girls from Nakasu in Hakata.
"I go to a bar called Luce when in Nakasu. The girls who work there seem to really enjoy their work and so I feel at ease. There is one girl who even wants to name her kid after her own stage name. They're not uptight about it. Also, there are clear boundaries, so guys who come to pick up girls may not like it that much. Personally, I prefer it that way."
"Among them there is a girl called Yuka and she has been telling me a lot of things about Nakasu. When I bring a guest with me and if I call in advance, she will even make reservations for me for sushi or other foods depending on the season. So, every time I go there she introduces me to new places. One time I called her because I got lost in Nakasu, and she sent some usher boys in black suits to come help me out. (laugh) She is almost like my concierge of Nakasu."
"I have been to night clubs all over Japan, but what's so amusing about the girls from Nakasu is how they spend their days off. They go to the hot springs, and because it's surrounded by nature, they play golf every weekend or go to the sea to cruise on their client's boat. They're really active. Sometimes they will even go on a daytrip to a spa in Busan, Korea. There is too much on their plate! (laugh) It would be ideal for me to just go to Tokyo for work and the rest of the time live and play in Fukuoka just like them. On top of that, if I could film in Fukuoka, I would have nothing left to complain about."
"Film it now or be damned." Katsuhito Ishii created a whole independent film by instinctively feeling this urge. Perhaps this is because he is incredibly honest with himself. Furthermore, his intuition and speed will most likely become much greater from here on: the film he really wants to make, the town where he really wants to live, and the audience he truly wants to share with. When what he sees today is replicated as a film in a few years from now, we will be reminded that "film it now" meant "live it now."
*The huge economic upsurge Japan experienced during the 1980s, followed by a historic crash.
(Interview: Manami Iiboshi, Translation: Mika Anami)