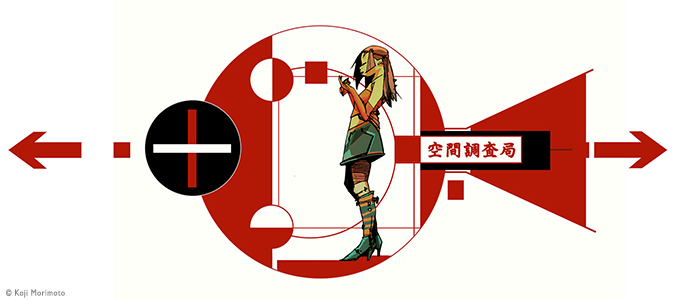 Dimension Bomb from The Box Men

Koji Morimoto unexpectedly got sucked into another dimension created by his most cherished and admired author to this day, Kōbō Abe. He was an exceptional genius, often compared to Franz Kafka and nominated multiple times for the Nobel Prize in Literature before his untimely death. One of his masterpieces The Woman in the Dunes is widely known for its film adaptation. Morimoto was eighteen attending design school in Osaka when he encountered Abe's novel that astonished him so much that it changed his entire perspective.
"I had never read anything like that, I was so shocked. Why hadn't I read such an incredible sci-fi novel before? After that I was totally infatuated and read all of them. All my thoughts and points of view were getting turned upside down. I was so affected by them."
"Incredibly odd situations were getting very realistically depicted, as if he had actually seen it happen. I thought, 'Oh, he is really able to visualize this.' Where he chose to emphasize his standpoint was so unique, and as I continued to read, I admired his angle."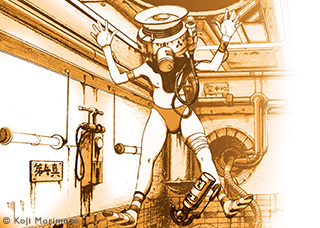 "For that very reason, I don't really care about popular TV series these days and their unsignificant endings. Why bother recreating on screen the stuff we are fed up with everyday? If you are going out of your way to reinvent it, why not show a regular drama with hardcore sci-fi going on in the background. I want to be totally blown away!"
Morimoto's work indeed paints the picture of "existential crisis," a theme that also repeats in Kōbō Abe's novels. Abe's The Box Man, in which absurd surrealism and vaguely unstable characters are depicted, surfaces as a subtle encryption in Morimoto's renowned short film Dimension Bomb from Genius Party Beyond anthology.
"For example, when I am looking at photo books in a bookstore, I do this thing where I look at the pictures upside down, and then find the ones I like. Gravity tilts when you flip it. That is when a curious new balance is born. Rather than looking at the pictures, I am exploring possibilities of balance."
"When I am just working on my own stuff, in order to prevent myself from getting stuck in my own head, I go look at other people's work from a different angle, and make sure I find a perspective that makes me think, 'Oh yeah, this could totally work, too.'"
"I like to peep through holes. When I find a hole, I can't help myself from not peeking in. I think about what it will be like to make a peephole where school children walk by and write above it, 'Don't peep.' Ahaha. When I am walking and I come across walls and pathways that have no practical use, I think to myself, 'Why here, and why is such an odd thing put here?' Meanwhile, I love finding things like that."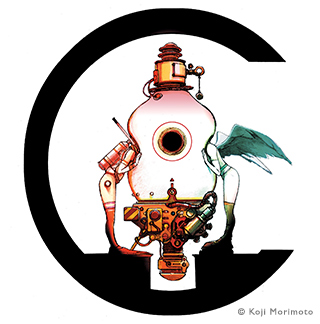 Besides encountering Kōbō Abe, other life-altering experiences gripped him during his two-year stint in Osaka. He was drawn in by a city that felt like the total opposite of the environment he grew up in, and was compelled to find "the brightest place."
"Osaka is exceptionally amusing, the city itself and its people. It's really a treasure box full of characters overflowing that look like comedians or old dudes that look like cartoons. I was always people watching. Like, ooh that auntie has got it going on! Haha. It was really an energetic town as if yakuza mobsters, the homeless, and the doing-well-for-themselves rich guys were all living together."
Of all of his hangouts, Nishinari district is the most vivid in his memory. The town is known for having Japan's largest population of day laborers and homeless, as well as the only place in Japan where riots ever happen anymore, and for that, it is sometimes mentioned even in foreign media. These days foreign backpackers have increased because it's extremely affordable.
"At the cheap inns where laborers stay for about 500 yen ($5) a night, you see promotional signs that say, 'We have plugs,' or 'We have doors,' or even 'We have walls.' Ha. You can find street vendors selling a shoe. The police station is in a cage prepared for riots. It is definitely a town where all social values have been flipped upside down. Once there was an older guy that was napping with his feet hanging onto the road. I told him 'Hey, watch out,' and he replied 'I am waiting to get run over.' Ahaha."
"There, the places we think are the safest, are said to be the most dangerous. For example, a homeless man approaches, baring his body with tons of scars and says, 'Look. Look. The hospital is the scariest.' When I ask him why, he replies, 'So I go to the hospital when I catch a cold, they commit me right away and then the young doctors in residency practice surgery on me.' They have no social security, no family, their status is that no one will know if they are disappeared from this planet. Still, that is the hospital they have to go to."
"It's a place that makes us want to question everything we have been taught and everything written in textbooks. Like receiving a blow to your head from behind. I can draw and reinvent the scenery anytime, because I remember it so clearly. I would like to make a piece like that in the future."
The hole poked into the "ordinary" looks into the "unordinary." Some will peep and others will be peeped. But we all know that the line that separates us, as Kōbō Abe also points out, is very ambiguous and holds no ground. Perhaps that "hole" that Morimoto peeped into, amidst the swaggering homeless box men of Nishinari, was the path still connecting the fuse line to Morimoto's work: undermining predetermined balance and displaying how common sense is unreliable and can be flipped over.
(Interview: Manami Iiboshi, Translation: Mika Anami)