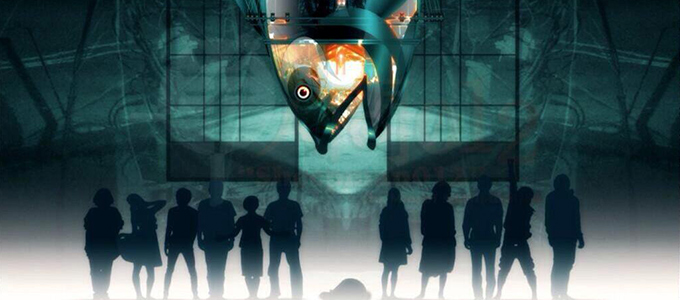 A Round-Table With Unknown Family Members

Director Koji Morimoto starts his day early. He wakes up at 6 o'clock every morning and devotes himself fully to his work until noon. In the afternoon he meets up with people or goes out in town, and in the early evenings he heads over to a bar alley called "Harmonica Yokocho" in front of Kichijoji Station. He barhops the bars he frequents and he shares drinks and conversation into the late hours with friends from the neighborhood who spontaneously gather one by one. Director Morimoto's daily routine takes place in a family-like community called "Kichijoji," where there is a very slight boundary between businesses and customers, and customer to customer.
"I feel that this town is going to experience significant changes, in a good way. Like the old days, maybe more street vendors will fill the town. I help in the area of community development for Kichijoji, so I am always on the lookout for things that could possibly happen here. I think it's vital to incorporate events into everyday life."
"For example, an event that opens up a space where entry is usually not permitted - for just that day. Sneaking into someone's house or yard." (Giggles) "Or everyone blasts music throughout the town, and just for one day, creates a giant city of sound. Do something together that requires the city's full support. Wouldn't that make you want to visit this place?"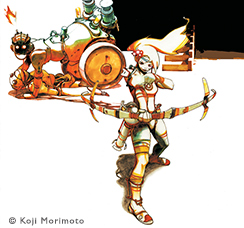 "In this ordinary life that has become commonplace, it is important that we disconnect one of the switches. We can't do something like that all at once, but I intend to complete a line by skillfully connecting small dots. I want to expand the circle of these events slowly, and want to work together to create a fun sensation that lures people in from around the world."
Kichijoji Anime Wonderland is also one of those ploys that were set in place in 1999, in commemoration of the 100th anniversary of Kichijoji Station. Built by Kichijoji-affiliated manga and anime artists together with the city, the festival celebrates its 17th year. Director Morimoto has took part since the very first year, he was in charge of visuals including the poster design, and even started judging for the Kichijoji Animation Film Festival that was established in 2005.
For this year's event, he got on stage with fellow local creators including Director Katsuhiro Otomo for a panel discussion. Director Morimoto has known Director Otomo since he joined the AKIRA project (1988) as assistant animation director. He was singled-out from among many at the young age of 28.
"AKIRA by Mr. Otomo is also a movie about Kichijoji. Actually, that giant bomb crater is Mitaka (next station over) where Mr.Otomo's house is. It's right on his home, the studio itself. So, that was him conveying his intention to 'Take on the world from right here (ground zero).' We were all creating, bound together under that indisputable belief that this movie was going to change the world. And, it did."
"When Mr. Otomo decided to enter the anime industry with AKIRA, it was a huge fiasco! He had already successfully established himself as a manga artist and he was a charismatic existence to us, so we wondered why he would go out of his way to make anime. But when you think about it, Mr. Otomo always wanted to make film. So for him, manga was just one of the paths, a short cut, to get to it. I think it's incredible that I was able to take part in that project at that moment, which was so precious to him."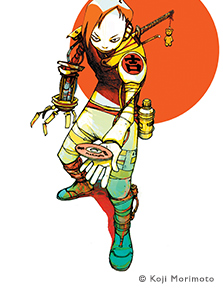 "I still remember the time when I first had a drink with Mr. Otomo. I think it was around Ogikubo. We bumped into each other on the way home, and hey how about a drink was our intention, but ended up talking non-stop for eight hours. I remember I was talking incessantly about what I am here to do. And after that, we started drinking together all the time."
Director Morimoto continued to tag team with Director Otomo for omnibus anime films such as Memories and Short Peace. Even outside of the anime field, there are many artists and corporations that long to collaborate with the unprecedented talent that is Koji Morimoto. Different partnerships bring protean styles. Director Morimoto's activity as a visual creator including music video, commercial art direction, and spacial design has reached a new height over the years. Last year he worked as a playwright for the very first time for theatrical play Sheepman012.
"Theater, unlike film or anime, has contiguous time. If it's 90 minutes, then it's 90 minutes! Uncut all the way. I found that amusing and at the same time scary. As in, why is it that what was perfect in rehearsal goes wrong during the show? I found that the art that is uninterrupted is such a challenge to me and that was so invigorating."
"I don't have a strong preference for the form of expression. I love Kobo Abe, Shuji Terayama, and Michelangelo because none of them considered their form of expression to be a career. They were all over the place, doing this here and doing that there. I personally like people that have an immense amount of curiosity, because I would like to be that way, too. That is why I am always looking for something new, or some new expression. For that, I will find any method of expression and put it to use."
"Once we lose the buzz, then we can find some other form of expression that makes us excited anew. That goes for towns and workplace, too. Like organically bringing together everyone's specialties and saying, 'You can count on me if you decide to do it!' That kind of connection is ideal. One person can only do so much, after all. Find something that makes us excited from the heart and we all gather momentarily to make it happen. That is how good things come to life, I believe. It's so overwhelming because we tend to think that we are dealing with something that is already 'there.' Once we understand it never existed before that moment, then everything becomes much easier."
It exists but it doesn't. It doesn't exist, but it does. If you disconnect that switch from ordinary life, you may notice that the world is merely a giant cell in its cycles of mitosis and meiosis that continues to metabolize. Therefore, we, who have happened upon each other in this lifetime, may relive the cycles of putting our prowess together, understanding each other, and then going our different ways at times looking for that new "buzz." Even so, we may all return to the same place at the end. That is the kind of sentiment you wallow in, in Kichijoji, a town that holds you close, like an open embrace of a big family's dinner table.
(Interview: Manami Iiboshi, Translation: Mika Anami)